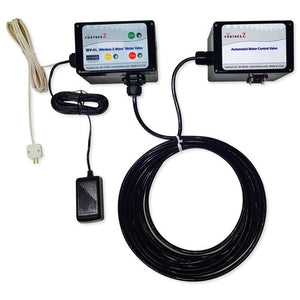 Automated Outdoor Z-Wave® Water Shut-Off Valve
Enjoy the peace of mind in knowing your home is protected from water damage! Install this automated valve on your water main and pair it with your Z-wave home network, sensors & flow meter for a complete water damage prevention system.
Made in the USA using high quality commercial grade materials. Units are tested to 250,000 cycles, ensuring malfunction free operation for many years.

50' Outdoor UV rated cable 


Unit plugs into standard 110V wall outlet

Local control of water at valve include Open & Close buttons at the control panel unit

Actuator Unit is factory sealed & waterproof (NEMA 6 rating) for use outdoors above or below grade.

Remote controllable through Z-wave controller (via mobile App or using handheld remote, which is sold separately)

Local wired Leak Probe (9') detects water leaks in the area and automatically shuts-off the water.
*Requires a Trane/American Standard XL824/850/1050 smart thermostat or an alternate Z-Wave Bridge in order to communicate with your Home app.
**Requires a paid Subscription. View the Nexia subscription plans here, American Standard Home subscription plans here, and Trane Home subscription plans here.