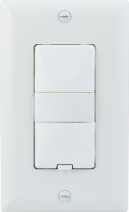 GE® Z-Wave Plus® In-Wall Smart Motion Switch
Save energy while enjoying Z-Wave control over your wired light fixture by replacing your traditional switch with the GE Z-Wave Plus In-Wall Smart Motion Switch. This light switch has a built-in PIR motion sensor to serve as a vacancy or occupancy sensor, automatically turning the light off when the room is empty. You can also manually turn the light on and off through your Home Z-Wave controller or using the local button switch. A blue LED indicator helps guide you to the switch through the dark.
Works with all incandescent, LED, xenon, halogen and fluorescent lighting
Sensor can be set to occupancy, vacancy, or manual mode
Suitable for single-pole or multi-pole applications
Can be included in multiple groups or scenes
Built-in timer to set length of time light stays on after motion stops (5 sec to 30 min)
3 sensitivity levels (low, medium, high)
"Z-Wave Plus" certified for wide compatibility
Integrated range extender - Repeats Z-Wave signal up to 150 feet
Can be used in 3 and 4-way applications
Uses a standard decorative-size wall plate (sold separately)
Available Colors: White paddle installed. Light Almond paddle included.
*Requires a Trane/American Standard XL824/850/1050 smart thermostat or an alternate Z-Wave Bridge in order to communicate with your Home app.
**Requires a paid Subscription. View the Nexia subscription plans here, American Standard Home subscription plans here, and Trane Home subscription plans here.Tech Specs:
Model #: 26931
Power: 120VAC, 60 Hz
Maximum Loads: 960W Incandescent, 1/2 HP Motor or 1800W (15A) Resistive
Frequency: 908.42MHz (U.S. Z-Wave)
Wireless Range: Up to 150 ft
Environmental: For indoor use only
Operating Temperature: 32-104 °F (0 - 40 °C)